FROM ROBIN CURRIE's Facebook Page:
URGENT – PLEASE keep an eye out for my daughter Maria Snell. She disappeared at the Solomon Pond Mall yesterday. Those of you who are close to us know that Maria is an extremely high risk child, and every minute that she is out there on her own puts her in serious danger.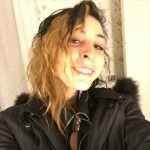 If seen contact : CONTACT 911 or Robin at 781-223-6347
Many of her friends are friends on Facebook with me. We are certain that she has made her way back to Worcester and is staying with a friend. WHOEVER you are, know this – you are NOT helping Maria, she needs to be located immediately. Do not close ranks on us – if you are truly her friend you will contact us, or the Worcester Police RIGHT NOW. That is the BEST thing you can do for her if you are truly her friend. If you are an adult, you should be aware that you are breaking the law by holding a minor against her parents' knowledge. This is now considered a serious crime and will be prosecuted, unless we are informed, or she is returned to us immediately.
You all know me and know that Maria comes from a loving home, and we will never give up on her. There will be NO questions asked if you help us find her. PLEASE share this and watch for her. Right now she has serious bruising on her face and eye from an accident earlier this week. She has a concussion and is having difficulty with vision in her left eye. She needs medication. She needs the care of her family right now—if she is with you this should be obvious to you. Please help us bring her home and remember, at this time, there will be no questions asked and anyone who helps us will remain anonymous—for now.