A great way to learn about WCCA TV and our Executive Director's passion for communicating through TV and music. TUNE INTO WICN this SUNDAY, Jan. 17 at 10 PM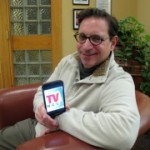 Mauro DePasquale of WCCA TV and Jazzed Up featured guest, WICN's BUSINESS BEAT
Sunday, January 17, 2016 at 10:00pm
In an all-new The Business Beat, Steve Jones-D'Agostino of Susan Wagner PR + Best Rate of Climb interviews Mauro DePasquale, executive director of Worcester Community Cable Access and band leader, singer and pianist for Jazzed Up.
 
WCCA is a 501(c)3 charitable, non-profit corporation that administers public-access cable television for Worcester. WCCA operates WCCA TV on Channel 194 – formerly Channel 13 – on Charter Cable's Worcester system.
 
The mission of WCCA is to:
Advance democratic ideals by ensuring the people have access to electronic media
Provide a platform for first amendment rights and for artistic and cultural expression
Promote co-operative relations with those who serve the public interest
Promote communication through community use of media
 
During the past four years, award winning Jazzed Up has served as "house band" for Luciano's at Union Station, Byblos, Coral Seafood and Summer Series at Wayside Inn, has made regular appearances at Oxford's Casual Dining, and Marlboro's Fish Restaraunt and Wine Bar. They performed at Governor Charlie Baker's Inaugural, on WCCA TV, and right here on 90.5 WICN.
 
Jazzed Up can also be made available as a quartet or full orchestra. The trio can fit any music need, including cocktail hours, concerts, fundraisers, dinner music, holiday parties, corporate events, lounges, film- and recording-session support, and more.
http://www.wicn.org/podcasts/audio/mauro-depasquale-wcca-tv-and-jazzed-all-new-promo
# # #
MEANINGFUL MEDIA WCCA TV
WCCA has a new revised monthly e-newsletter. To receive a copy you need
to get added to the mailing list by visiting the WCCA website at
wccatv.com and clicking on "Join the mailing list" which will take you
to the signup form HERE
http://wccatv.us7.list-manage.com/subscribe?u=48f898c016d0899151f159717&id=3c4fdd54f6
WCCA TV
The People's Channel. Contact the station and find out how you might qualify to be entered into a contest to win a nice prize by getting your friends to sign up for our e-news letter.

WCCA TV is a regional leader serving Worcester's community media public access needs and an anchor institution that stands for Media Democracy, Media Literacy and Creative Innovation. Learn Create and Connect at WCCA TV
For more information browse this website, watch our programming on cable channel 194 or here ( at wccatv.com) , streaming live or "On-Demand", and or contact Mauro DePasquale our Executive Director. We offer community volunteer memberships, special sponsor membership plans for businesses, Workshops and training for ALL ages, and whole lot more. Get involved, create, network, share your story, opinions, and fresh ideas on "THE PEOPLE's CHANNEL" WCCA TV
Thanks for your support.
NOTE this blog may be updated and the views and opinions expressed in the news articles embedded herein are not necessarily those of WCCA TV, it's Board of Directors, It's Staff, It's sponsors and associates.