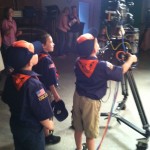 Tiger Cubs from Brimfield Mass occupied WCCA TV 13 studios last night ( May 22,2013) to learn about TV production. The tour included hands on experience in our control room, and the Michael Bafaro Studio A.
WCCA TV Youth Coordinator Chelsea, talked about the many year round after school TV and Media production workshops and programs offer at WCCA TV 13, and I gave them a quick course on camera and how to operate our switcher.
One of the attending parents Elissa told us "The kids had a blast thank you".
WCCA TV was delighted to extend our studio to the Cubs from Brimfield. Happy to hear they watch us on wccatv.com too.
LEARN CREATE and CONNECT
WCCA TV 13 "The People's Channel", Worcester, MA